As Northern Ontario's only all-girls school, Marymount Academy is a unique learning environment where girls flourish in academics, athletics, arts, and leadership roles. The Academy has a long-standing commitment to providing a learning environment which places students first. Students are constantly challenged, stimulated, and encouraged by dedicated, caring and highly qualified staff with an in-depth understanding of how girls learn and succeed.
Marymount Academy has a strong reputation for academic excellence, with graduates who excel in all areas. Its provincial math and literacy scores consistently surpass provincial averages and its Advanced Placement (AP) Program allows students to earn university credits recognized by North American universities while still in high school. The Academy's high post-secondary acceptance rate comes as no surprise as challenging and engaging course offerings, a committed staff, and a strong culture of achievement help to ensure that students are well prepared for post-secondary education.
At Marymount Academy, girls are encouraged to reach their individual potential in a warm and supportive school environment that fosters growth and excellence.
Bao Quynh Anh, Nguyen talks about her experience at Marymount Academy here!
View our virtual open house HERE!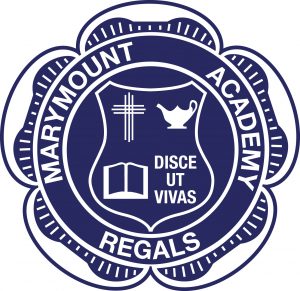 Specialist High-Skills Major (SHSM) Programs

Bundles of 8-10 courses that allow students to focus their learning on a specific economic sector while getting their high school diploma. Learn more 
SHSM Programs available at Marymount Academy:
• Architecture & Engineering
• Non-Profit
• Arts & Culture
Reach Ahead Program

Allows Grade 8 students to fast track and earn Grade 9 high school credits in various subject areas.

Other Programs

Advanced Placement (AP) Program: Allows students to receive first year university credits for Calculus, English, and French while still in high school.
Co-operative Education Program: A program that combines classroom and workplace learning. Students can earn two co-op credits towards their compulsory diploma requirements, with no limit on earning optional co-op credits.
Dual Credit Program: Students have more opportunities than ever to earn credits that count towards both their high school diploma and a college diploma or apprenticeship certification.
eLearning:  eLearning courses provide students with an opportunity to complete all course requirements using engaging, high quality, fully online course content. All courses are taught by teachers who have received specialized elearning training and who regularly provide feedback and assessment in order to guide and monitor ongoing learning.
French Immersion Program: This is a highly successful approach to second language learning in which students receive instruction in French for a significant portion of the day.
Ontario Youth Apprenticeship (OYAP) Program: OYAP is a School to Work program that opens the door for students to explore and work in apprenticeship occupations starting in Grade 11 or Grade 12 through the Cooperative Education program.
Student Ambassador Program.
For information about school sports teams and athletics, please click here.